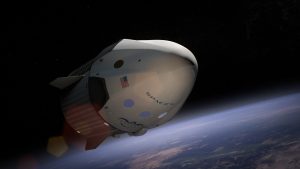 The Defense Advanced Research Projects Agency (DARPA) has awarded aerospace manufacturer Boeing to design a new class of hypersonic aircraft that would allow for inexpensive and efficient space travel.
Dubbed the "Experimental Spaceplane (XS-1) program," the new aircraft will reportedly be used to send satellites and payloads into orbit. While traditional rockets require months — sometimes even years — of preparation, the XS-1 requires just days. Assuming the project is successful, it would allow the Unites States military to repair or replace damaged satellites.
Of course, there's already an X-37 space plan, which run for year-long missions in space. The problem with this class of space vehicles, however, is that they aren't reusable. The XS-1, however, is fully reusable, allowing the military to recover and reuse the aircraft once it lands.
The XS-1 is about the side of a mid-class jet. Reports indicate that it's capable of taking off vertically, achieving hypersonic speeds once in orbit. Furthermore, it can be launched without the need for external boosters. The XS-1 is powered by cryogenic propellants, giving it substantial power without the confounds of traditional rockets. Once it reaches orbit, the XS-1 is capable of deploying massive thousand-pound satellites into the surrounding space. During this process, the first stage of the aircraft is released and returns back to Earth, where it's later recovered and repurposed for subsequent launches.
"The XS-1 would be neither a traditional airplane nor a conventional launch vehicle but rather a combination of the two, with the goal of lowering launch costs by a factor of ten and replacing today's frustratingly long wait time with a launch on demand," said Jess Sponable, DARPA program manager. "We're very pleased with Boeing's progress on the XS-1 through Phase 1 of the program and look forward to continuing our close collaboration in this newly funded progression to Phases 2 and 3—fabrication and flight."
While the program is far from complete, DARPA says the XS-1 could significantly lower the cost of launching satellites and payloads into space. In fat, the average cost of such launches could come with a price tag of just $5 million — a fraction of the cost of launching from a traditional rocket. This would, of course, allow for quicker and easier access to space, which could have a positive effect on numerous industries, only one of which is defense.
Join thousands of others receiving our newsletter.