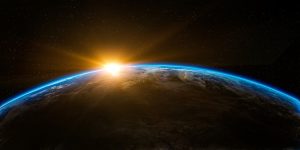 The Defense Advanced Research Projects Agency (DARPA) is one step closer to developing a high-powered engine for space planes. Earlier this month, the defense organization announced that it successfully completed the first test of its AR-22 engine. Performed at NASA's Stennis Space Center in Mississippi, the test involving firing the engine 10 times over the course of 10 days — once per day — to measure its performance.
The test wasn't performed solely by DARPA, however. Several organizations were involved, including Aerojet Rocketdyne, Boeing and the Defense Advanced Research Projects Agency. Along with DARPA, these organizations are working to build a space plane with a new, unique engine, thereby paving the way for other exciting applications in the field of aerospace manufacturing.
According to DARPA, the recent AR-22 engine tests were critical to the project's success. DARPA explained that, in order to move forward, the tests must be successful. The good news is that DARPA's tests were a complete success, as the AR-22 engine fired on time, every time. "It was a significant go-no-go milestone for us in order for us to move forward with the program," said program manager Scott Wierzbanowski when discussing the test. "We shattered this idea that these types of engines can't be used in a very operable and aircraft-like way."
So, what is DARPA hoping to accomplish with the new AR-22 engine? Basically, it wants to create a reusable space plane that can quickly turn around — much like a traditional commercial airliner. Spacecrafts today have limited maneuverability and control. They can still accelerate and decelerate, as well as change direction. However, it's a tedious process that's not very efficient. DARPA is hoping to overcome this challenge by developing a new space plane that's powered by the AR-22 engine.
DARPA has already partnered with Boeing to develop the space plane. Dubbed the Phantom Express, it will feature the AR-22 engine developed by Aerojet Rocketdyne. Assuming all goes as planned, the Phantom Express will be able to launch vertically into orbit. Once it reaches an altitude of approximately 20,000 to 230,000 feet, it will release a satellite weighing up to 3,000 pounds. Most importantly, though, the Phantom Express will be able to glide back down to Earth so that it can be reused.
Experts say the cost of a Phantom Express launch will be around $5 million. While that may seem expensive, it's significantly cheaper than most other launch services offered by commercial aerospace companies.
Join thousands of others receiving our newsletter.