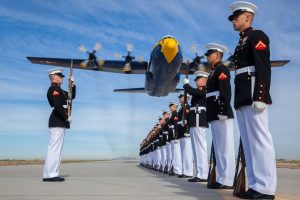 In an effort to attract new recruits, the U.S. Navy will be increasing the amount of tuition assistance it offers to active sailors. Starting June 1, 2018, all sailors will have the option to take college classes with a maximum tuition assistance of $4,500 per year. So, how does this compare to the Navy's previous tuition assistance?
In the past, the Navy's tuition assistance allowed sailors to take up to 16 semester hours each year, with a maximum reimbursement of $250 for each of these semester hours. Under this new and improved model, sailors will have more option from which to choose regarding their higher learning education. Sailors can choose from low- or high-cost schools, all of which are eligible for the Navy's tuition assistance.
When speaking about the new tuition assistance changes, Vice Adm. Robert P. Burke, chief of naval personnel explained that higher learning education helps foster better skilled sailors who can operate more efficiently and effectively as part of a team.
"Higher education opportunities lead to a more capable and engaged sailor who thinks in terms of the bigger Navy team," said Vice Adm. Robert P. Burke. "Maximizing TA opportunity is an investment in our sailors, and is consistent with our message that learning and professional growth are not only available, they are expected of senior leaders."
Burke has taken other steps to encourage recruits to enlist in the Navy in recent months. Last year, he increased the re-up bonuses, giving recruits another reason to enlist. Burke also expanded tenure limits. Now that the Navy offers more attractive tuition assistance, it shouldn't have a problem attracting and retaining new recruits.
Of course, many people join the Navy, Army or other branches of the U.S. Armed Forces for tuition assistance. The U.S. Armed Forces offers some of the most lucrative benefits of all military organizations in the world. For many young adults, the cost of tuition prevents them from going to college and achieving their life goals. But the Navy, along with other branches of the U.S. Armed Forces, provides an alternative route. When enlisted in the Navy, sailors can take advantage of tuition assistance.
Going to college isn't cheap. According to the College Board, students pay an average of $34,740 per year for private colleges or $9,970 per year for public colleges. The Navy's tuition assistance program is intended to foot this bill, allowing sailors to attend college without worrying about the high cost of tuition.
Join thousands of others receiving our newsletter.