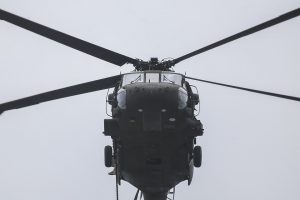 Black Hawk Aircrew Trainers (BAT) have proven instrumental in preparing U.S. military pilots to operate these massive combat and support helicopters. Featuring a realistic cockpit with complete  controls, they allow military pilots to practice takeoffs, landings and other maneuvers in a simulated environment. The Army developed the first Black Hawk trainer back in 2015, implementing it at the Fort Bliss, Texas base. However, it appears the Army is looking to enhance its Black Hawk trainers, as it recently announced plans to upgrade the trainers with a new proficiency system.
About the New Proficiency System
Known as the Collective Aircrew Proficiency Environment (CAPE), the new system is designed to create a more realistic training environment for pilots by the introducing new challenges. Flight simulators have been used to train military pilots for decades. Unfortunately, though, they haven't always been realistic. Many flight simulators only test pilots on their basic knowledge of flight control systems. They do not test pilots on how to respond to various challenges that occur during battle. The Army is hoping that CAPE will solve this problem by creating a more realistic training environment for pilots.
It's unknown exactly how the Army will use CAPE in its Black Hawk trainers. However, one of the projects lead developers says that it could be used to help pilots and crew perform mock rescue missions.
CAPE was actually designed by the Army Research, Development and Engineering Command Aviation and Missile (AMRDEC). The AMRDEC failed to secure funding for the project, but that didn't stop it from developing CAPE. Even without funding, it was able to develop CAPE using borrowed or discarded materials.
According to Joseph P Creekmore Jr., director of the Army's Black Hawk aircrew training project, the Black Hawk training project is led by experienced military pilots and aviators who've seen combat firsthand following 9/11. "They all survived combat because they fought as a team. All the BAT Project's former and retired Army aviators know to their very core that, to fight and win America's wars, the Army must train as it fights and that includes training as a full aircrew," Creekmore explained. "So, from Day 1, the BAT Project dreamed and planned for an opportunity to demonstrate an excellent whole-crew trainer that would contribute to the readiness of all U.S. Army Air Warriors."
CAPE is still in the early stages of development, and there's a strong chance that the Army will further improve and optimize the system to better prepare its pilots and aviators for real-world scenarios.
Join thousands of others receiving our newsletter.