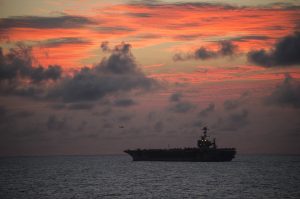 The U.S. Navy has officially commissioned a new littoral combat ship. On its website, the Navy announced on Jan. 12 that it was adding the USS Wichita ship to its fleet.
The commissioning of the USS Wichita marks the Navy's seventh Freedom-class littoral combat ship. The Navy says that a crew of roughly 70 sailors will operate the new combat ship while performing military operations close to shore.
What is a littoral combat ship exactly? The term "littoral combat ship" refers to a set of medium-sized vessels that are designed specifically for military operations near shore. The term encompasses two subtypes: Freedom and Independence. Although there are nuances between these two classes, they are both smaller than frigates, making them highly useful for near-shore military operations.
Littoral combat ships offer several unique advantages when compared to frigates and other long-range vessels. First and foremost, they are cheaper to build and maintain, which is a huge benefit in itself. Second, the combat design of littoral combat ships allows them to operate in areas that aren't possible with larger ships. Third, the Navy says that littoral combat ships will help strengthen the U.S. military's partnership with its allies, as these ships can be quickly deployed on the spot with minimal planning. The Navy will still build and use larger ships, but the smaller design of these littoral combat ships provides unique benefits that aren't found in larger, longer-range ships.
O"It's an honor and a privilege to be assigned to Wichita," said Chief Operation Specialist Isaac Davis. "I was born and raised in Kansas, so this is a real privilege. This is my first time being a plank owner (commissioning crew), or being on a new ship. It's a moment I'll definitely treasure. I hope I will do justice to the city of Wichita."
If you keep up with the Navy's fleet of ships, you may have heard of the USS Wichita before. This is actually the third USS Wichita, the first of which was used by the Navy in World War II. Back in 1939, the Navy commissioned the first USS Wichita. And in the 1968, the Navy commissioned the second USS Wichita.
The USS Wichita isn't the only new littoral combat ship included in the Navy's fleet. In 2008, the Navy commissioned the USS Freedom, an Independence-class combat ship. And in December 2018, the Navy commissioned the USS St. Louis. Therefore, the recent commissioning on Jan. 12 marks the third USS Wichita added to the Navy's fleet.
Join thousands of others receiving our newsletter.