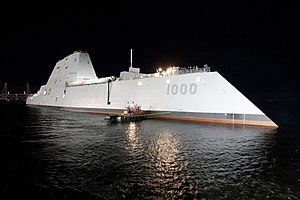 The U.S. Navy is upgrading its fleet with a new stealth destroyer. Known as the USS Zumwalt, it's been in development for some time, with origins dating back to 2008, during which the Navy hired Bath Iron Works to build the destroyer. However, the USS Zumwalt is now receiving some much-needed upgrades to improve its performance and versatility as an attack ship.
According to National Interest, the Navy will equip the USS Zumwalt with an Evolved Sea Sparrow Missile as well as SM-2, introducing new weapons systems for the stealth destroyer. Furthermore, the Navy is considering other weapons systems for the USS Zumwalt , including land-based missiles. "The Navy is in the process of updating required documents to support new surface strike requirements," said Zumwalt program manager Capt. Kevin Smith when speaking about the project.
The USS Zumwalt receives its namesake from American naval officer Elmo Russel Zumwalt, Jr., who was the youngest person to serve in the Navy as the Chief of Naval Operations. Zumwalt later went on to become an admiral, and he played an important role in the U.S. military's presence during the Vietnam War. After 32 years of service, Zumwalt retired from the Navy. However, this legacy lives on in the form of the USS Zumwalt stealth destroyer.
As shown in the photo above, the USS Zumwalt isn't your typical destroyer. It features a sleek design with enhanced stealth capabilities. The USS Zumwalt measures roughly 600 feet long, making it relatively small compared to other destroyers in the Navy's fleet. But it's main strength lies in its stealth capabilities. It's able to sneak past enemy lines undetected, offering a major advantage to the Navy.
And soon the USS Zumwalt will be even more powerful, as the Navy is looking to upgrade it with new weapons systems. The introduction of an Evolved Sea Sparrow Missile could prove invaluable in enhancing the stealth destroyer's attack capabilities. Originally designed 2004, it's able to counter supersonic anti-ship missiles, thus protecting the USS Zumwalt from key threats. Of course, the USS Zumwalt isn't cheap to build. According to Wikipedia, the stealth destroyer comes with a hefty price tag of $3.5 billion to $4.4 billion. With these new upgrades, though, it could prove to be well worth the investment for the Navy.
So, when will the Navy finish upgrading the USS Zumwalt? An exact date of completion is unknown at this time, though reports suggest that the Navy is aiming for 2020.
Join thousands of others receiving our newsletter.