When is Flag Day 2022?
June 14th, 2022 is Flag Day in case you didn't get the memo. To celebrate this day, we're going to reveal several fun and amazing facts about Flag Day.
Flag Day Trivia (navigate to specific sections using the links below)
A Wisconsin Town Hosts the Oldest Flag Day Parade
On June 14, hundreds of cities throughout the United States celebrate national Flag Day by hosting parades and other events. However, a small town in Wisconsin is believed to host the oldest Flag Day parade. According to Wikipedia, Appleton, Wisconsin has been hosting Flag Day parades every year since 1950.
The United Stated Adopted the Flag on June 14, 1777.
National Flag Day is designed to celebrate the adoption of the American flag, which occurred on June 14, 1777. On this day, the Second Continental Congress passed a resolution, adopting the American flag.
Flag Day Isn't a National Holiday
Unfortunately, Flag Day isn't considered a national holiday, meaning federal workers will still have to show up to their jobs on June 14. The reason behind this is unknown. Regardless, Flag Day was not included in the 1968 Uniform Holiday Act, which was responsible for designating the national holidays and three-day weekends celebrated in the United States.
The American Flag Symbolizes the 13 Colonies and 50 States
As you may already know, the American Flag features 13 stripes that symbolize the original 13 colonies, as well as 50 stars that symbolize the 50 states in the Union.
National Flag Day Wasn't Celebrated Until 1937
Some people assume that national Flag Day began in 1777, when the American flag was adopted. However, it wasn't until nearly a full century later before this happened. On June 14, 1937, Pennsylvania was credited with celebrating the first Flag Day in the United States. Since then, other states have jumped on board, recognizing June 14 as national Flag Day.
The Largest Flag Day Parade is Held in New York
While Appleton, Wisconsin may host the oldest Flag Day parade, another city hosts the largest Flag Day parade. Every year on June 14, the town of Troy, New York hosts a massive Flag Day parade that attracts more than 50,000 people, making this the country's largest Flag Day parade.
National Flag Week
There's also a national Flag Week, which runs through the week of Flag Day. During national Flag Week, the U.S. President typically encourages citizens to display the American flag. You'll also see American flags being flown on government buildings and private organizations to honor and celebrate national Flag Week.
How to Prepare for Flag Day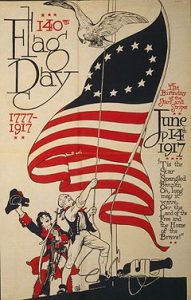 Held annually on June 14, Flag Day is a nationally recognized holiday that's intended to celebrate the adoption of the United States flag. The American Flag has a long, rich history dating as far back as 1777, during which the Second Continental Congress passed a resolution creating the flag. So if you're looking to show your patriotism, you should mark your calendar for June 14.
While the American flag was officially adopted in 1777, Flag Day wasn't established until more than a century later. In 1916, President Woodrow Wilson proclaimed that June 14 be recognized as Flag Day through an Act of Congress.
It's important to note that Flag Day is not an official federal holiday. With that said, however, the current president has discretion over whether or not to observe it — and most presidents, not surprisingly, do recognize this important and historically significant day.
Flag Day is often celebrated with parades, parties and other social gatherings. One of the oldest and most prolific Flag Day parades occurs in Appleton, Wisconsin. This began the parade during the early 20th century. In June, thousands of people visit the downtown district of Appleton to celebrate Flag Day with an hours-long parade.
While Appleton and Quincy, Massachusetts may hold the title for hosting the country's oldest Flag Day parades, Troy, New York's parade draws a larger crowd. According to Wikipedia, more than 50,000 spectators attend the Flag Day parade in Quincy each year, making it one of the country's largest parades of this type.
As you may have guessed, Flag Day parades and events feature dozens, sometimes hundreds, of American flags being proudly flown. Whether you live in Appleton, Quincy, or any other U.S. city, however, there are ways to celebrate Flag Day.
Here are some tips to prepare for Flag Day:
Display a full-size American flag in front of your house.
Wear a patriotic t-shirt, or alternatively, wear an outfit consisting of red, white and blue colors.
Check the local news to see if there are any parades or events taking place near June 14.
Encourage friends and family to show their support by also displaying the American flag.
If you currently have any old, dirty and worn American flags, consider "retiring" them, replacing them with new ones.
Throw a Flag Day party. Even if there aren't any local Flag Day parades or events taking place, you can always throw your own Flag Day party.
Brush up on your history of the American flag.
Join thousands of others receiving our newsletter.