We often think of our soldiers overseas, but sometimes we forget that it's not just a hardship on them being so far from home, and in dangerous situations, but it's also a hardship on the spouses, children and other loved ones back home that have to wait for their return, with fear in their hearts because they never know if they will see their soldier again. In the articles and videos that follow, we get to see the wonderful happy reunions of several of these warriors on their return.
Airman Returns Home and Surprises Kids at School
After more than five months in Afghanistan, Sr. Master Sgt. Cliff Thom comes home and surprises his kids at school. In this article by Tom Rivers for orleanshub.com, we get pictures and interviews on their happy reunion. Thom and his wife started at the middle school to surprise his first two children and take a moment to speak to his son's social studies class, then walked through a corridor of applauding students and teachers on their way to the high school to surprise his oldest daughter during her band rehearsal. It was a day none of them will ever forget. Share in the joy by reading the entire article.
Soldier Comes Home Early to Surprise Kids
In this wonderfully heartwarming video, posted on Welcomehomeblog.com, two kids are told that they are getting a big surprise. They think it might be a new replacement bike for the little boy that had been stolen a bit earlier. The mom has them stand in front of the garage with their backs turned then opens the garage. When they turn around there are tears of joy in everyone's eyes and the kids get what they have really been waiting for, much better than a new bike, their dad was home on leave. See the whole video here.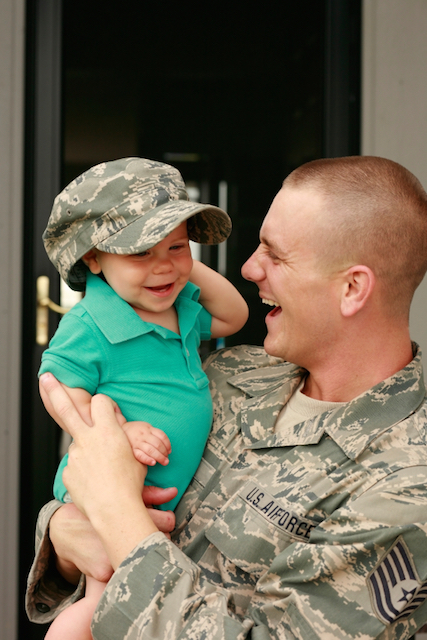 Watch This Soldier Dress as Santa and Surprise His Kids
After being deployed in South Korea for a year, Captain Josh Risher was finally coming home and this article by Diana Bruk for countryliving.com gives us an inside look at his wonderful surprise. Deciding to give his two little girls Kaylee and Christy a big surprise, he dressed up as Santa and came to their school play. The girls didn't even recognize him until he pulled his beard down and smiled at them. Of course then it was an eruption of love and hugs and tears and kisses. The article is very heartwarming but the video at the end will probably put a tear in your eye. Watch those sweet girls' reactions in the video and read the entire article here.
Soldier Mom's Secret Stuns Kids
Talk about a reason for giving thanks, the kids in this video by WTVM for cnn.com will have a great one this year because they have their mom back after seven months in Afghanistan. Grandma was in on the surprise and took the kids to the airport, supposedly to get a cousin coming into town for the holiday. There were tears and hugs all around when they say their mom coming down the gangway. Watch the entire heartwarming video here.
Join thousands of others receiving our newsletter.