Thanksgiving is a celebrated in the United States every fourth Thursday of November. It's a time for families to gather together for a day of Thanksgiving feasting, some turkey, and football. But did you know that during the first Thanksgiving celebration, there was no turkey at all?
America's Thanksgiving celebration is already a combination of two traditions; the Puritan Thanksgiving, which is a religious and more solemn celebration; and the New England Thanksgiving, which remembers the first bountiful harvest and is more festive.
Do You Know the History of Thanksgiving in the United States?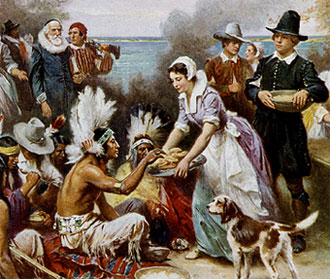 The first Thanksgiving happened in 1621 when the first pilgrims invited Native Americans to share a meal with them. It was a three day event that included hunting, feasting, and entertainment. The Native Americans offered five deer to the Pilgrims, so venison was the main dish on the menu list, again, no turkey.
It was in 1789 when President George Washington announced the first National Thanksgiving Holiday on November 26th 1789. But that didn't trigger its annual celebration. It didn't become an annual festivity until the 19th century.
During the civil war in 1863, President Abraham Lincoln announced that Thanksgiving be celebrated every last Thursday of November. President Franklin Roosevelt, however, decided to move it up a week in 1839, to help retailers increase their holiday profits during the Great Depression. This move was highly criticized back then and was even given the name "Franksgiving."
Finally, in 1941, Congress passed a law making it official, that Thanksgiving will be celebrated every fourth Thursday of November where it stays until today.
Famous U.S. Holiday Traditions
Thanksgiving Dinner – Families sit down and feast on a holiday meal, which usually include pumpkin pie, pecan pie, baked sweet potatoes, mashed potatoes, stuffed turkey, ham, roasted chicken, and of course cranberry sauce.
Macy's Thanksgiving Day Parade – This is probably one of the most awaited parades in the country and one of the oldest Thanksgiving parades. It started in 1924 and it includes the display of the National Flag, famous full-size balloons, numerous floats, street entertainers, marching bands, and more. But there are other similar street celebrations and parades happening in all parts of the country.
Black Friday – is the Friday following Thanksgiving Day. It's not a holiday but still considered by many as the busiest shopping day of the year.
Turkey Bowl – This is one of the oldest American traditions connected with Thanksgiving Day or Turkey Day. Every level of football plays on Thanksgiving Day.
Pardoning Turkeys – This tradition was initiated by President H.W. Bush, every year, the current president sends a turkey to a retirement farm instead of being served on the dinner table.
Thanksgiving Day is also a chance for citizens to be proud of their heritage. Many families have made it part of their annual tradition to display their flags outside their homes as a sign of Thanksgiving for the blessings received by the nation.
It's a national holiday encouraging American to pause and think about all these blessings and be thankful for the care and protection this great country is providing its citizens. Be proud, be loud, fly your flag on Thanksgiving Day to show your message of thanks!
Join thousands of others receiving our newsletter.