A popular event to witness for decades now, air shows are one of the most impressive feats of aviation out there. You don't have to be a fan of flight to enjoy these incredible shows as there is something for everyone in attendance. If you get the chance, here are some of the best air shows around that you can't miss.
10 Best Air Shows Around the World
From Florida to Wisconsin to Germany, this list from USA Today highlights some of the most incredible air shows you can see at various places in the world. The Bournemouth Air Festival in England is the largest annual airshow in Europe as the festivities last for 4 days on the beach. If domestic is more your style, you can't go wrong with the Florida International Air Show in Punta Gorda, Florida at the end of March each year. For more great air shows, you can see the full list here.
US Air Shows: Awe-Inspiring Aerobatics
For the aviation enthusiast looking to stay abroad for an incredible air show, you can't go wrong with any of the destinations on this list from the Travel Channel. From the breathtaking tricks at the Dayton Air Show in Dayton, Ohio, to the more than 10,000 pilots at the Oshkosh EAA AirVenture show in Oshkosh, Wisconsin, the midwest has plenty to offer in the world of aviation. For more on these incredible shows, you can learn more here.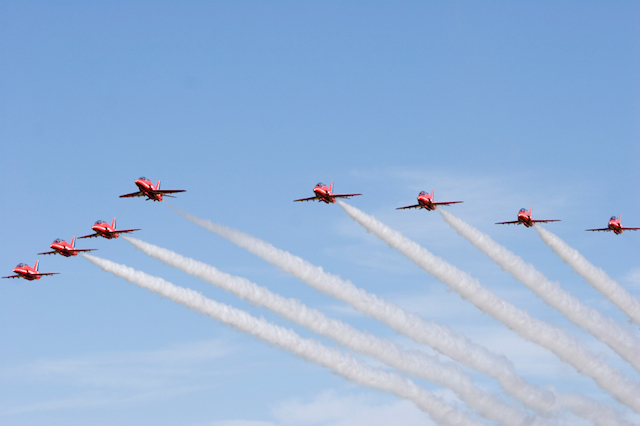 Top 15 Air Show Events and Festivals in the USA
This outstanding list from Top Events USA provides some of the best air shows around from Florida to Alaska and everywhere in between.The Geneseo Air Show in Geneseo, New York provides some of the coolest historic planes to ever take to the skies, as planes from World War II and the Korean War highlight the field. You can learn more about this show and many others in the full article here.
The 9 Air Shows You Should See This Summer
Summer time is the ideal time to head to the airport or military base to take in the sights of an incredible airshow. In this list from Popular Mechanics, the author highlights over a dozen air shows that are a must see for any aviation fan this summer. From the American Heroes Air Show in Lake ViewTerrace, California to the Experimental Aircraft Association AirVenture in Oshkosh, Wisconsin, you can't go wrong with any show on this list. You can see all the other destinations in the full article here.
Join thousands of others receiving our newsletter.