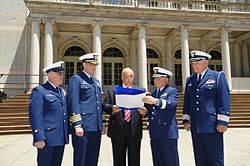 The Coast Guard is one of the five branches of the U.S. Armed Forces, along with Army, Marine Corps, Navy and Air Force. However, there's a non-military force of the Coast Guard that often goes unnoticed: the Coast Guard Auxiliary. To learn more about the U.S. Coast Guard Auxiliary and how it functions, keep reading.
Originally formed in 1939 by Congress, the U.S. Coast Coast Guard Auxiliary consists of volunteers who offer their work and services to the Coast Guard. This isn't just an ordinary auxiliary, however. The Coast Guard Auxiliary focuses specifically on non-military and non-law-enforcement missions. Servicemembers are responsible for carrying out all Coast Guard missions with the exception of those that require military engagement.
It's not uncommon for Coast Guard Auxiliary servicemembers to patrol local waterways in search of stranded boaters. Additionally, they are often called upon to conduct search and result missions. If the Coast Guard Auxiliary receives word about a lost boater, they'll dispatch servicemembers to find the lost boater and return him or her to safety. However, the Coast Guard Auxiliary's responsibilities go far beyond basic patrols and search and rescue missions. They are also responsible for teaching boat safety classes, conducting vessel safety checks, monitoring the marine environment, and other activities associated with recreational boating.
The U.S. Coast Guard states that some 4,158 boating accidents occurred in 2015, resulting in more than 600 deaths, 2,600 injuries and $42 million in property damage. While boating is a popular pastime for millions of Americans, it also comes with inherit risks. Thankfully, the U.S. Coast Guard Auxiliary seeks to create a safer environment for the countless Americans who enjoy boating. They work around the clock to ensure that boaters are safe, and when necessary, conduct missions to rescue those in need of help.
So, how big is the U.S. Coast Guard Auxiliary? As of 2015, more than 32,000 men and women serve in the Coast Guard Auxiliary's 825 plus local units. According to the official U.S. Coast Guard Auxiliary website, these servicemembers contribute nearly 4 million collective hours of service every year. Since the Auxiliary's inception nearly eight decades ago, they've conducted more than half-a-million missions.
The Coast Guard Auxiliary has its own specific leadership command, which generally consists of national officers, district officers, division officers, flotilla officers and staff officers.
You can learn more about the U.S. Coast Guard Auxiliary and how to join by visiting its official website here.
Join thousands of others receiving our newsletter.