What Our Troops Miss Most About America
Forbes staffer Alyson Papalia for forbes.com, gives us an inside look at what our soldiers miss most about their homes in America. From simple things like green grass and a good night's sleep, to the more heat wrenching things, like their friends and family, the soldiers sent abroad miss their home. Conversely, many soldiers say that after thinking constantly about the first thing they would do when they get home, they realize that once they get here, they often find themselves missing the friends they made while in service to their country. In addition, they find that they feel even more deeply that the work they were doing while in the service was some of the most important work they will do in their lives. The article also has links to photographs and individual soldier's stories about what they miss most. You'll want to read the full article here.
The 7 Things That Deployed Troops Miss Most
If you want to feel inspired, smile and feel good about your country, then you really must read this article by Rhino Den for businessinsider.com. A veteran who served time in Iraq, Rhino gives his list of the things he missed most about America and he does it with humor and love for this country. If you find yourself getting a bit misty as you read his funny take on his favorite things about our country, don't feel alone, we did too. While it's clear he feels good about the work he's done in Iraq, it's also very clear that once he got home, he got a good taste of why he did it. Get ready for some laughter and a look at the country you love when you read the full article here.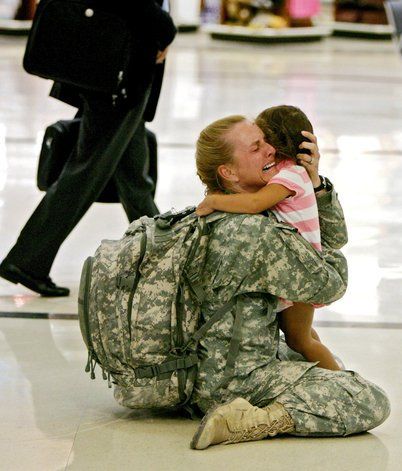 What Do Deployed Soldiers Miss?
In this video and article posted on tptblogs.wordpress.com, we get a behind the scenes look at a documentary called "Iraq & Back: Minnesotans' Stories" that deals with the Red Bull Soldiers and their families and their trials and tribulations they face both at home and on deployment. The article shares the filmmaker's experiences and the things he missed and that his fellow soldiers missed while on deployment in Afghanistan. There are also links to more about the soldiers and the film that you can go and check out. See the video and read the full article here.
Military Dads Missing a Baby's First Year
This article by Lisa Belkin for parenting.blogs.nytimes.com, and the subsequent comments to the article by soldiers and their wives will give you a real understanding of what military life is like for both the solider and the family who has to stay home and wait for their return. The main article is about a woman who gave birth to her child two months early while her husband was deployed. He was not allowed to return home to be with his wife and child. Unfortunately, this is one of many difficult situations our soldiers and their families have deal with when one of them is on deployment.
Join thousands of others receiving our newsletter.